What is Workforce Development?
A broader definition of workforce development
In 2002 NCETA defined workforce development as:
"…a multi-faceted approach which addresses the range of factors impacting on the ability of the workforce to function with maximum effectiveness in responding to alcohol and other drug related problems. Workforce development should have a systems focus. Unlike traditional approaches, this is broad and comprehensive, targeting individual, organisational and structural factors, rather than just addressing education and training of individual mainstream workers".
The Intergovernmental Committee on Drugs (IGCD) endorsed this definition and it has adopted by state based alcohol and other drug (AOD) workforce development strategies in New South Wales and Victoria.
The primary aim of WFD is to facilitate and sustain the AOD workforce by targeting organisational and structural factors as well as individual factors. While not an exhaustive list, examples of individual versus organisational and structural factors include:
Individual factors
knowledge
skills
attitudes
Organisational & structural factors
policy
funding
recruitment and retention
accreditation
resources
support mechanisms
incentives
The foundations of WFD rest on the recognition that a range of interactive factors impact on effective AOD work. The key components include:
A WFD approach means moving the focus from individual workers to also include organisations and systems. It shifts the emphasis from skills deficit to systems enhancement by:
Identifying and influencing the high-level systems that shape the workforce
(e.g., legislation, policy, resources)
Identifying and addressing systems and structures that affect performance and outcomes (e.g., support, resources and supervision)
Developing strategies to support and improve individual performance
(e.g., education, training, best practice guidelines) as well as workers' wellbeing
Implementing strategies to ensure a sufficient pool of skilled workers for the future.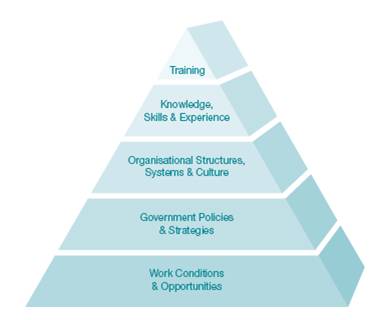 The WFD approach is now moving into the Australian AOD mainstream, with four states funding WFD units and/or convening high level WFD Committees.
Key Workforce Development Elements
The main aim of AOD workforce development is to build the capacity of organisations and individuals to respond to alcohol or drug related problems. A wide range of issues can affect individual and organisational capacity to respond to alcohol or drug related problems. Therefore effective workforce development needs to acknowledge and address these issues.
This section describes a number of workforce development issues relevant to the AOD workforce and outlines strategies to address these issues and provides links to useful resources.
NCETA WFD Resources
For a comprehensive introduction to key WFD concepts and strategies, see NCETA's:
Other Resources
NCOSS (2007). Models of workforce development. Sydney: Council of Social Services of NSW.